Challenge: Cool, wet spring conditions / or / cool and dry spring conditions
Solution: Using tested seed (germination and vigour)
Details: Carlson Ag Enterprises farms in SE Saskatchewan and in South Central Alberta primarily peas, cereals and canola
The story: Weather challenges can lead to crop staging issues which start with the seeding date for crops. The best harvest scenario is set when crops are seeded with staging in mind, and with unpredictable spring weather optimal conditions aren't always available.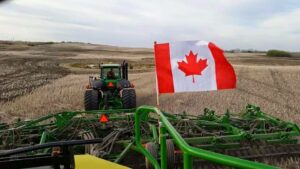 Farm owner Jeff Carlson and Farm Operations Manager, Earl Silinski, chooses to have seed tested by 20/20 Seed Labs with samples submitted through the Three Hills Seed Cleaning Plant.
"We usually test twice a year, three times if we are looking at a high contract value crop," says Silinski, "Knowing what both the germination and vigour percentages are gives me a bigger window to plan for seeding. If I can push the spring a bit it gives me more breathing room at harvest."
He also notes that having both germination and vigour percentages lets him determine if the seed lot can go in earlier with good results, or should be held until conditions are more optimal.
"Some crops can take an earlier spring push, for dry and cool, or wet and cool, conditions," he stated, "I can make agronomic choices for inputs based on the strength of our seed. Knowing that makes my job easier, and the farm has a better chance of getting good yielding crops."
Setting the season up for success starts with the previous harvest when seed allocated for the next year is tested and stored. It is monitored throughout the winter using sensors in the bins and spring tests are done to help make seeding plans. Seeds that are being treated may also be tested to ensure the application will perform as expected on the lot.
"We've made changes right before seeding when a test came back with results we didn't really like," Silinski notes, "We maybe change it out for another lot or plant it when conditions support it."
With almost 18,000 acres in production planning ahead is critical to success, and testing is an important tool for the farm. The farm management team understand how important it is to have accurate results that are correct to the crop they are having tested. "You can't rush a seed," says Carlson, "You have to see what surprises it might have and deal with them. That's why testing is important, fewer surprises as the crop comes up."