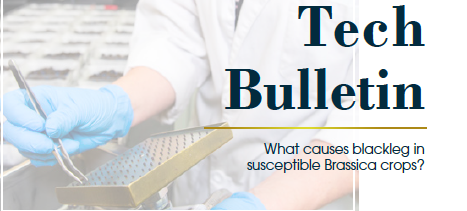 Blackleg (stem canker) is primarily caused by the highly virulent fungal pathogen Leptosphaeria maculans.
Blackleg infestations cause significant yield losses in susceptible crops. Blackleg-infected crop and weed residues release fungal spores that are carried by wind or rain-splash to susceptible plants.
Disease symptoms manifest as lesions on the cotyledons, leaves, stems, and pods. The infection spreads down through the petiole and into the stem causing dry rot and stem cankers. These cankers can be white to grey in colour with a dark border and contain small dark spots (pycnidia) where spores are produced.